Press Release.
Cabot Learning Federation
Brook Road, Kingswood, Bristol, BS15 4JT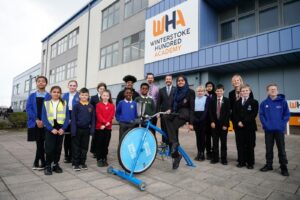 The CLF will be hosting our inaugural Environment Conference at Winterstoke Hundred Academy on Thursday, March 31.
Organised by the CLF's Environmental Action Group (EAG), students from all of our academies across our Federation who are members of our academy Environment Committees will be attending, the first time pupils from all CLF academies will be at an event together since the start of the pandemic.
Each academy will be represented by ten students ranging in age from 4-19.
Sam Hodder, Principal of Uphill Village Academy and Chair of the CLF EAG, said: "We are delighted to be holding this event. Environmental issues are of high importance to many of us and we have pledged, as a trust, to make a real difference within our communities. The aim of the conference is to educate, inspire and inform our young people so they are equipped to invoke change within their own academies.
"The conference purposely follows COP26 as many of our students had their interest heightened by the publicity and news coverage. We feel it is a perfect opportunity to continue their education and build on their interest."
During the day staff and students will hear from three guest speakers: Francis Hyland, Chris Sperring and Laura Fogg–Rogers.
Francis Hyland has been at Keep Britain Tidy since the Eco-Schools programme began, ensuring the process is student-led and 'teacher friendly'.  As a former primary school teacher, Francis understands the complexities of introducing and running the Eco-Schools programme in school. He enjoys celebrating and sharing the work of schools when delivering training across the country.
Chris Sperring MBE is a wildlife conservationist working locally for the Hawk and Owl Trust. He presents and broadcasts on TV and radio and also enjoys lecturing on a wide range of subjects. Chris writes regularly for wildlife magazines and newspapers.
Laura Fogg–Rogers is a lecturer and researcher in Science Communication at UWE Bristol. Laura previously worked as a journalist for the BBC and as a Communications Manager in New Zealand. She currently manages the communications for the EU environmental project ClairCity. ClairCity is a Horizon 2020-funded project responding to the call 'Improving the Air Quality and Reducing the Carbon Footprint of European Cities'. The project takes a novel approach to understanding air pollution, carbon emissions and their impact on citizen health and wellbeing.
Note to editors:
Since 2009 the CLF has developed from a small Bristol-based secondary education partnership to an instinctively collaborative ambitious organisation of over 20 schools, serving the educational needs of over 12,000 children and young people aged 3 to 19. The trust also includes a Maths Hub, Initial Teacher Training and is a founding partner in the Five Counties Teaching School hub Alliance. The trust is sponsored by the University of the West of England and Rolls-Royce PLC. CLF academies are based in three 3-19 clusters in Bristol, South Gloucestershire and North Somerset.
ENDS