Press Release.
Cabot Learning Federation
Brook Road, Kingswood, Bristol, BS15 4JT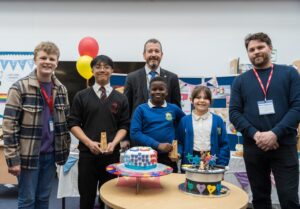 The fiercely competitive annual CLF Big Bake is the exciting annual baking battle for CLF students and pupils, in which secondary and primary academy teams prove their prowess and are crowned the CLF's best bakers.
Held this year at King's Oak Academy, a team from each CLF school was invited to participate in our second annual baking competition.
Testing the bakers' creative flair and technical ability, each school team offered one scrumptious cake judged by CLF CEO Steve Taylor and special guest judges Michelin-star chef Josh Eggleton and Junior Bake Off runner-up, Robbie Hedges.
An amazing selection of cakes were blind tasted and bonus points were on offer for a bake linked to the CLF's HEART values.
While the cake tasting took place, the oven gloves were off in a live technical challenge. Primary school pupils were asked to decorate biscuits and secondary pupils asked to make scones. These again were marked by the judges and added to each academy's overall score.
Before the winners were announced, judges praised the baking on display and noted the amazing effort both students had put into the competition.
The winning teams were from Bristol Brunel Academy and Summerhill Academy.
Kate Richardson, CLF Executive Principal, said: "It was a fantastic afternoon to show our children that they are a part of something bigger; our Cabot Learning Federation family. We thoroughly enjoyed the baking, talking to the inspiring judges, being together again following the pandemic and of course, tasting the bakes! Congratulations to all of the pupils who took part!"
Note to editors:
CLF Big Events are a wide range of joy-filled activities which we have developed to create lasting memories for our pupils, whilst shaping who they are and developing their sense of self. CLF Big Events also support our trust wide ambition to deliver excellent education experiences for our pupils, improving their life chances and serving the communities of which we are a member. This year we are running an ambitious list of Big Events.
Since 2009 the CLF has developed from a small Bristol-based secondary education partnership to an instinctively collaborative ambitious organisation of over 20 schools, serving the educational needs of over 12,000 children and young people aged 3 to 19. The trust also includes a Maths Hub, Initial Teacher Training and is a founding partner in the Five Counties Teaching School hub Alliance. The trust is sponsored by the University of the West of England and Rolls-Royce PLC. CLF academies are based in three 3-19 clusters in Bristol, South Gloucestershire and North Somerset.
ENDS