Academies across the Cabot Learning Federation have featured in articles across this month's editions of the Voices Newspapers, see below for more details, including a front page!
Student receives National Lottery Award
Mariama Sanneh, a Year 11 student from John Cabot Academy, has won the National Lottery Young Hero award. This award recognises inspirational individuals, projects and young people who do extraordinary things for their community. Mariama is a junior trustee for Integrate UK, a youth led charity that empowers young people to take an active and positive role in transforming the society they live in. An important part of her role as junior trustee is to lead youth steering groups and reports back to the board. In addition, Mariama has contributed to script writing, performing in the youth friendly media resources, whilst also delivering peer education workshops to students at John Cabot and elsewhere. These have included grooming for radicalisation, FGM and gang and drug culture.
Mariama has devoted vast amounts of time and energy in her own time to being a positive voice for young people and in turn has made a huge contribution to our academy in both peer education and facilitating our Equalities Council. In addition to all of this, Mariama has since been recognised further in Bristol and has won the Bristol Young Heroes Arts and Culture award for all the creative music and media projects she has been involved in.
We are very proud of all the work that Mariama has done to date, and we are excited to see what she does next. Congratulations from all the students and staff at JCA!
This is how the Kingswood Voice reported it.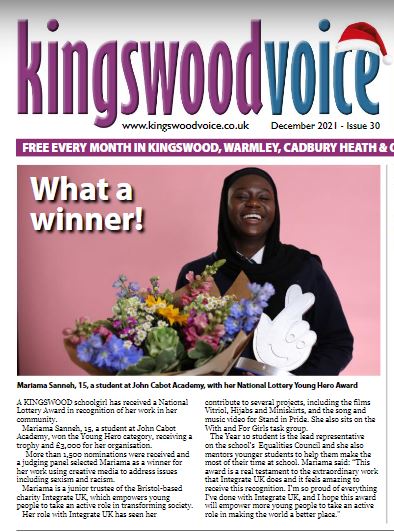 Frome Vale pupils make powerful film on discrimination.
Frome Vale Academy pupils have made a powerful film about racial and sexual discrimination, after their application to Unique Voice and Crimestoppers's crime prevention film-making project was selected.
The academy chose Discrimination as a focus of the film, as it aligned with the launch of the academy's Equalities, Diversity and Inclusion group and other work related to Frome Vale Citizenship.
Pupils were then invited to expand on the proposals through workshops, and chose to focus specifically on race and sexuality, as these were the topics they felt were most pertinent to them.
The Academy worked with Unique Voice over a number of days, writing the words and drawing the animations, which were then filmed. The film was showcased at the end of last term with Bristol's Deputy Mayor, Asher Craig, as a special guest.
The Principal of Frome Vale Academy, Jan Saunders, said: 'I am immensely proud of this piece of work in conjunction with Unique Voice. It epitomizes all the work we do at Frome Vale around citizenship and reflects our pupil's understanding of these important issues."
To watch the video please click on this link https://vimeo.com/587816233/b5bc60e7a9
This is how the Fishponds Voice reported it.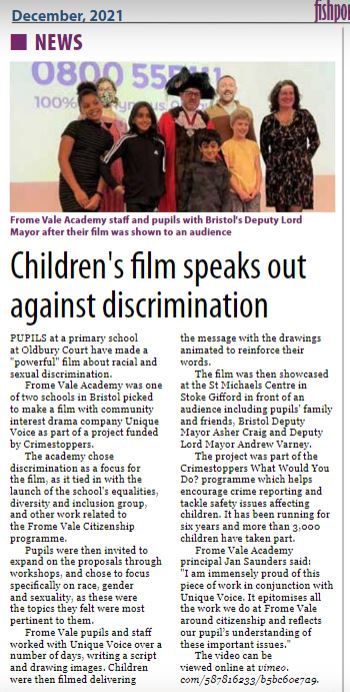 PCSOs deliver safety talk to pupils
Internet safety is an important part of any child's education, so all Year 6 pupils at Minerva Primary Academy had a visit from their local PCSOs to talk about safety online and in their local area of Hillfields.
The children used their Meerkat Learning Power to ask questions, demonstrating their active curiosity and the importance of taking ownership of their own learning in readiness for secondary school.
Pupils were encouraged to show their parents the websites they frequently visit and use. Using their oracy skills, children explained how the websites work, in particular the safety features and privacy settings, making sure these are set appropriately for the age of the user. They were also taught how to protect their online identity and not to give out any personal information.
Jennifer Harvey, Principal of Minerva Primary Academy, said: "At Team MPA we really value how safe access to the internet can enrich and support learning in and out of school. We recognise the importance of teaching online safety through our curriculum for everyday life, for future learning and careers. Therefore, the link with our PCSOs supported this message from trusted adults in the community."
This is how the Fishponds Voice reported it.