Press Release
Cabot Learning Federation
Brook Road, Kingswood, Bristol, BS15 4JT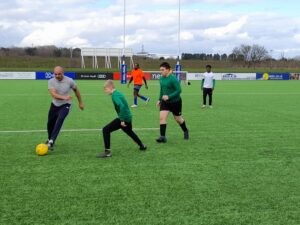 The Mayor of Bristol, Marvin Rees, dropped into a football training session with students from Snowdon Village at Dings Rugby Club, Frenchay.
Snowdon Village is a group of schools in Cabot Learning Federation multi-academy trust providing an alternative provision for students who have been excluded from mainstream schools or who have specific learning needs which mean they find it difficult to cope in a mainstream setting.
Before the training session, Marvin delivered a frank and insightful mentoring session to students about his own school days and the obstacles he had to overcome in his early years.
It was then on to the pitch for a staff vs students match, with Marvin playing for the staff team. In the hotly contested game, that pundits predicted could have gone either way, the match eventually finished in an honourable 2-2 draw.
Staff and students thanked Marvin for the time he spent with them, before departing back to school.
Alex Davies, Principal of Snowdon Village, said: "It was fantastic to see our children engaging in conversations with Marvin about his childhood and education as well as giving him a run for his money on the pitch! It's really important for our children to see strong role models that have things in common with them paying an interest in them and what they are achieving. We use sport to create a sense of belonging for our children and the initiative is proving to be really successful in drawing children away from criminal exploitation by focusing on something positive."
Note to editors:
Since 2009 the CLF has developed from a small Bristol-based secondary education partnership to an instinctively collaborative ambitious organisation of over 20 schools, serving the educational needs of over 12,000 children and young people aged 3 to 19. The trust also includes a Maths Hub, Initial Teacher Training and is a founding partner in the Five Counties Teaching School hub Alliance. The trust is sponsored by the University of the West of England and Rolls-Royce PLC. CLF academies are based in three 3-19 clusters in Bristol, South Gloucestershire and North Somerset.
ENDS