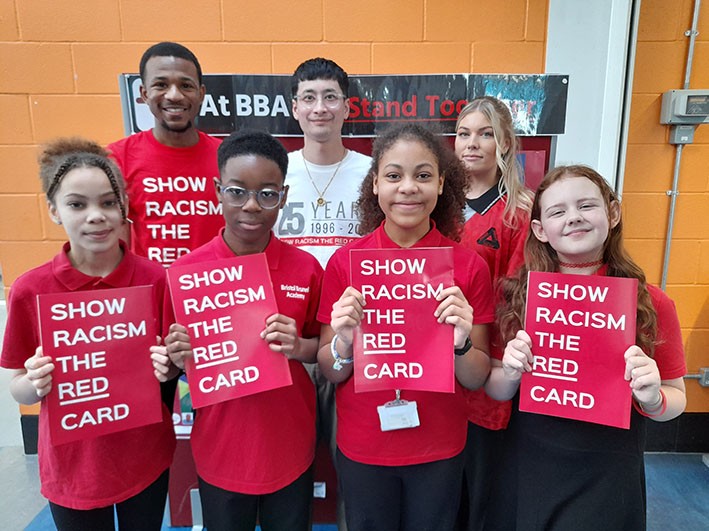 Staff and students at Bristol Brunel Academy showed racism the red card at a whole school event. Staff and students were encouraged to wear something red in support of this initiative.
All money raised will be going to the Show Racism the Red Card, a charity founded in January 1996, thanks in part to a donation by then-Newcastle United goalkeeper Shaka Hislop.
Throughout the day there were pop-up sessions at the start of each lesson where students could discuss the issues around racism. Themed PHSE lessons were staged for every year group across the academy.
At breaktimes and lunchtimes students had the chance to visit stalls where they could talk candidly to groups and organisations about racism. There was also a chance to buy cakes and sweets to raise money for the cause. Students could also take part in a raffle to win JD vouchers, with again all proceeds going to the charity.
Ahead of the event, students watched The Pursuit of Happyness at their culture film night. The film stars Will Smith and is based on a true story about single father Chris Gardner; evicted from their apartment, he and his young son find themselves alone with no place to go.
Event organiser Joshua Sterling, Associate Assistant Principal at Bristol Brunel Academy, said: "At Bristol Brunel we stand together. We pride ourselves on the ongoing work we do with the Halo Code, which protects and allows all students and staff with Afro-textured hair to wear it naturally, as well as working towards our Anti-Racist School Award to improve race equality in schools. The day allowed our students to show racism the red card, moving us one step closer to a world free from discrimination."
ENDS